Alexei Navalny: 'More than 2,000 detained' in protests across Russia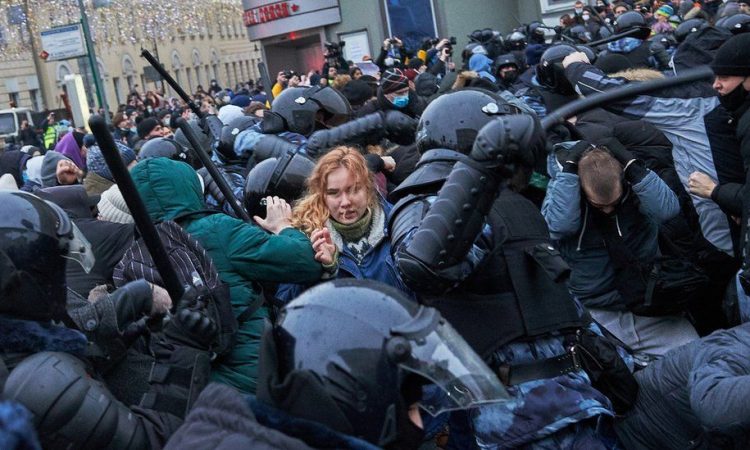 Russian police have detained more than 2,000 people in a crackdown on protests in support of jailed opposition leader Alexei Navalny, monitors say.
Tens of thousands of people defied a heavy police presence to join some of the largest rallies against President Vladimir Putin in recent years.
In Moscow, riot police were seen beating and dragging away protesters.
Mr Navalny, President Putin's most high-profile critic, called for protests after his arrest last Sunday.
He was detained after he flew back to Moscow from Berlin, where he had been recovering from a near-fatal nerve agent attack in Russia last August.
On his return, he was immediately taken into custody and found guilty of violating parole conditions. He says it is a trumped-up case designed to silence him.
OVD Info, an independent NGO that monitors rallies, said some 2,500 people had been detained, more than 900 of them in Moscow alone. The Kremlin has not commented.
The unauthorised demonstrations were held from Russia's Far East and Siberia to Moscow and St Petersburg. Protesters ranged from teenage students to elderly people who demanded Mr Navalny's release.
At least 40,000 people joined a rally in central Moscow, Reuters news agency estimated. Observers say this was the largest protest in the capital since the demonstrations of 2019. But Russia's interior ministry put the number of protesters at 4,000.
In the city's Pushkin square, some protesters chanted "Freedom to Navalny" and "Putin go away!" One woman told the BBC she had decided to join the demonstration because "Russia has been turned into a prison camp".
Sergei Radchenko, a 53-year-old protester in Moscow, told Reuters: "I'm tired of being afraid. I haven't just turned up for myself and Navalny, but for my son because there is no future in this country."
Lyubov Sobol, a prominent aide of Mr Navalny who had already been fined for urging Russians to join the protests, tweeted a video of police roughly pulling her away from an interview with reporters.
Mr Navalny's wife, Yulia, was briefly held at the rally. She posted an image on her Instagram account with the caption: "Apologies for the poor quality. Very bad light in the police van."
Meanwhile, one independent news source, Sota, said at least 3,000 people had joined a demonstration in the city of Vladivostok, but local authorities there put the figure at 500.
AFP footage showed riot police running into a crowd, and beating some of the protesters with batons.
In the Siberian city of Yakutsk, attendees at a small protest saw temperatures dip as low as -50C (-58F).
Prior to the rallies, Russian authorities had promised a tough crackdown. Several of Mr Navalny's close aides, including his spokeswoman Kira Yarmysh, were arrested earlier in the week.
BBC