Bangladesh fire: Thousands of shacks destroyed in Dhaka slum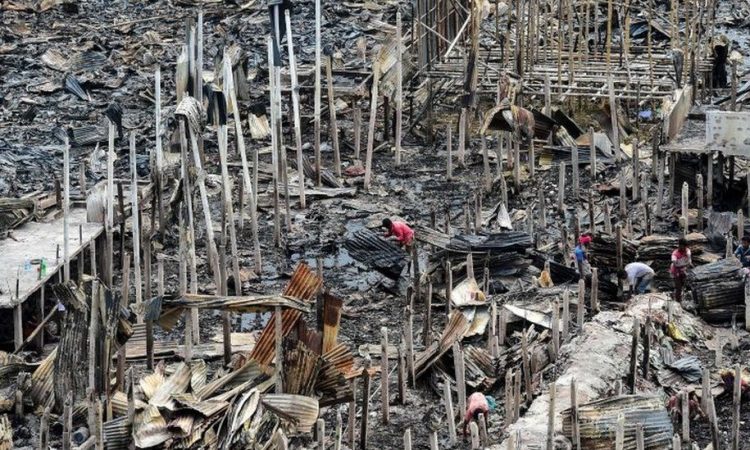 A massive fire has swept through a slum in the capital of Bangladesh, Dhaka, leaving thousands of people homeless.
At least 1,200 tin shacks were destroyed in the Chalantika slum late on Friday, officials said.
Many homes had plastic roofs, which helped the flames to spread. No deaths have been reported, although several people were injured.
Most residents are low-wage earners and many were away after the Muslim festival of Eid al-Adha.
There is no word on the cause of the fire.
The number of people made homeless by the fire is unclear, with Reuters news agency reporting it to be 3,000 people and AFP putting the number at 10,000.
Earlier reports suggested the number was as high as 50,000.
"According to our investigation committee 1,200 shanties were damaged and out of this 750 shanties burnt totally," Enamur Rahman, junior minister for disaster management and relief, told Reuters.
The government says relief will be provided for the many thousands who are now without shelter.
Some 10,000 people are currently being sheltered in schools that were shut for the festival, fire official Ershad Hossain told AFP.
"I could not salvage a single thing. I don't know what will I do," Abdul Hamid, who ran a tea stall inside the slum, told the news agency.
An investigation is under way. Firefighters took more than six hours to put out the flames.