Belarus: Mass protest eclipses defiant Belarus leader's rally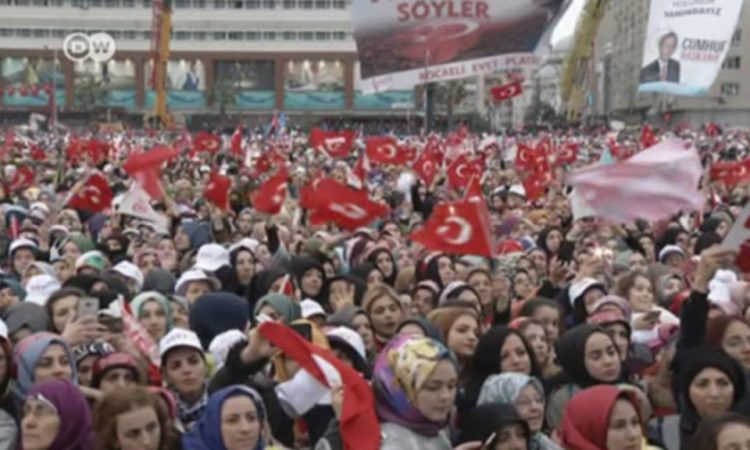 Tens of thousands of opponents of Belarusian President Alexander Lukashenko have gathered in Minsk to protest against disputed elections.
The "March for Freedom" in the centre of the capital comes amid growing anger over alleged poll-rigging and police violence at subsequent protests.
Meanwhile, in an address to a smaller crowd of several thousand, Mr Lukashenko blasted opponents as "rats".
He called on supporters to defend their country and independence.
The rival rallies were taking place after Russia agreed to offer security assistance in the case of external military threats to Belarus. It emerged that Mr Lukashenko had twice spoken to President Vladimir Putin over the weekend.
The long-time Belarus leader also voiced concerns over Nato military exercises taking place in neighbouring Poland and Lithuania and launched into a tirade against the Western military alliance.
Nato rejected allegations of a build-up in the region.
The unrest erupted after Mr Lukashenko claimed a landslide victory in last Sunday's election, the result of which has been condemned amid widespread allegations of vote-rigging.
The Central Election Commission says Mr Lukashenko, who has been in power since 1994, won 80.1% of the vote and the main opposition candidate Svetlana Tikhanovskaya 10.12%.
But Ms Tikhanovskaya insists that where votes were properly counted, she won support ranging from 60% to 70%.
Reports suggest several thousand people were taking part in the pro-government rally.
Speaking to supporters, Mr Lukashenko said he did not like rallies and did not need anyone to defend him. He said it was not his fault that he had to ask for their help. Rejecting calls for a re-run of the presidential election he said Belarus would "die as a state" if that happened.
"You came here so that for the first time in a quarter-century you could defend your country, your independence, your wives, sisters and children," he said.
He added that the opposition would "crawl like rats out of a hole" if they were not suppressed this time.
"This will be the beginning of your end – you will go down on your knees like in Ukraine and other countries and pray, God knows to whom."
BBC