Brexit: 'Large gaps' remain after trade talks with Ursula von der Leyen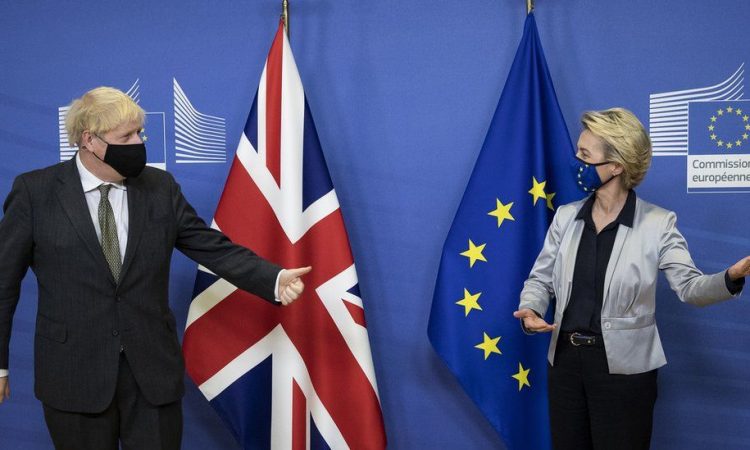 Boris Johnson's dinner with EU chief Ursula von der Leyen – aimed at breaking the Brexit trade deadlock – has ended without agreement.
A No 10 spokesperson said "very large gaps remain" but talks will continue, with a "firm decision" by Sunday on whether a deal can be reached.
Mrs von der Leyen said the two sides were still "far apart".
Talks between the UK's chief negotiator Lord Frost and the EU's Michel Barnier will resume in Brussels later.
The two negotiators also attended the three-hour dinner meeting between the two leaders.
The BBC's Laura Kuenssberg said the evening had "plainly gone badly" and the chances of the UK leaving the post-Brexit transition period at the end of the year without a firm arrangement was a "big step closer".
Time is running out to reach a deal before 31 December, when the UK stops following EU trading rules.
Major disagreements remain on fishing rights, business competition rules and how a deal will be policed.
The dinner was seen as a last-ditch opportunity to work through the main sticking points and for the two sides to try and find some common ground.
After the talks ended, MPs reacted to the news that there had not been any agreement.
"One year after Boris Johnson promised us an oven-ready deal he has completely failed," said Labour's deputy leader Angela Rayner. "The failure to deliver the deal he promised is his and his alone."
She was referring to the prime minister's promise of having an "oven-ready deal" at the last election. Earlier this week Mr Johnson said the oven-ready deal he was referring to was the Withdrawal Agreement, or divorce deal, rather than a trade deal.
SNP's Westminster leader Ian Blackford tweeted: "A no deal would be a massive failure of diplomacy and leadership which Boris Johnson has to take ownership of."
Meanwhile, Tory Brexiteer MP John Baron said the PM deserved praise for "standing firm" rather than compromising in a rush to agree a deal. "We must remember a trade deal is for keeps, not just for Christmas," he said.
"We all want a deal, but it has to be a good deal because as we've said many times before, no deal is better than a bad deal."
Speaking before he left for Brussels, Boris Johnson said the EU was insisting on terms "no prime minister could accept" in relation to access to UK fishing waters and retaliatory measures if the UK diverged from EU standards.
Any deal also has to be ratified by the European Parliament and win the backing of MPs at Westminster.
The House of Commons could sit as late as Christmas Eve should it be required to look at a Brexit deal, Speaker Sir Lindsay Hoyle said.
Under current plans, the Commons will stop sitting on 21 December, but he told Sky News the recess could be delayed.
BBC