British Tanker seizure: Foreign Secretary Jeremy Hunt warns Iran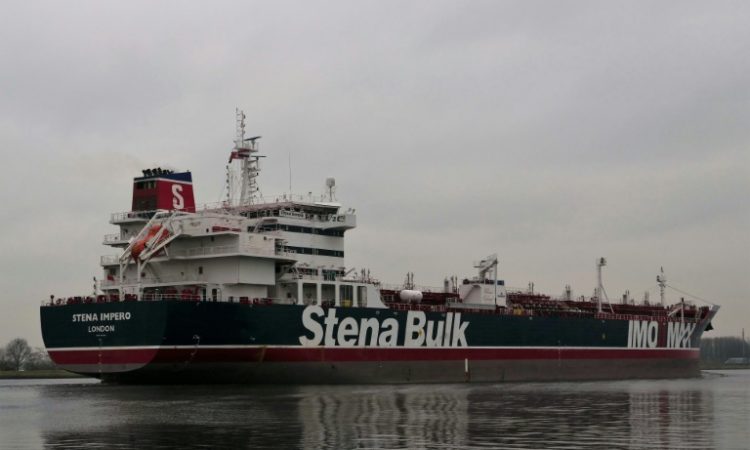 Foreign Secretary Jeremy Hunt has expressed his "extreme disappointment" in a phone call with his Iranian counterpart following the seizure of a British-flagged tanker in the Gulf.
It comes after Mr Hunt warned Iran may be choosing a "dangerous path" of "illegal and destabilising" behaviour.
The Stena Impero's owners have been unable to contact the ship, which was surrounded in the Strait of Hormuz.
Iran said the vessel was "violating international maritime rules".
In the call, Iranian Foreign Minister Mohammad Javad Zarif told Mr Hunt the ship must now go through a legal process, according to the Iranian news agency ISNA.
A second British-owned Liberian-flagged tanker, the MV Mesdar, was also boarded by armed guards but was released on Friday.
The Stena Impero was seized by the Iranian Revolutionary Guard on Friday in a key waterway in the Gulf.
The tanker was surrounded by four vessels and a helicopter before heading into Iranian waters, Mr Hunt said.
"We are not looking at military options," he said. "We are looking at a diplomatic way to resolve this situation."
Iran's foreign minister Javad Zarif tweeted that the UK "must cease being an accessory to #EconomicTerrorism of the US".
He said it was Iran that guarantees the security of the Gulf and the Strait of Hormuz.
"Unlike the piracy in the Strait of Gibraltar, our action in the Persian Gulf is to uphold international maritime rules," he said.
Abbasali Kadkhodaei, spokesman of the state watchdog the Guardian Council, said on Twitter that "the law of retaliation is a recognised concept in international law" shortly after the ship's seizure was announced.
BBC