Catalan leaders demand talks with Madrid as thousands protest again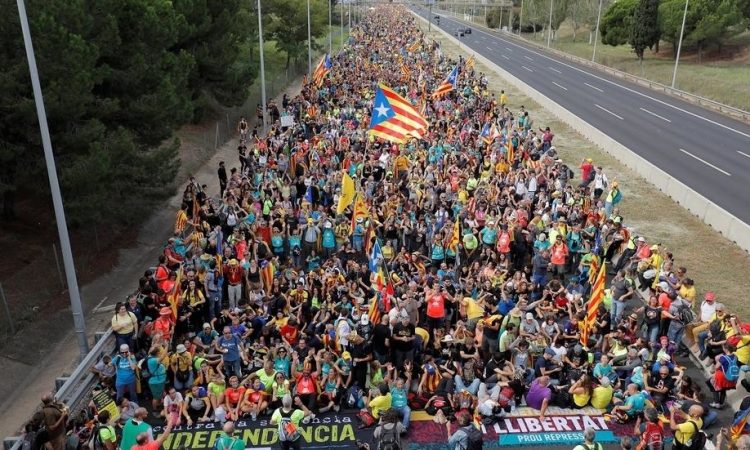 Separatist Catalan leaders on Saturday called on the Spanish government to hold talks as thousands protested for a sixth day in Barcelona.
Protestors accused police of "repression" and chanted "we are people of peace" following a night of clashes during which nearly 200 people were hurt.
They called riot police who had sealed off the demonstration "occupation forces" and one young demonstrator who asked to remain anonymous told AFP: "For me, this is not violence, it is self defence."
Overnight Friday, radical separatists had hurled rocks and fireworks at police who responded with tear gas and rubber bullets.
Regional interior minister Miquel Buch, who backs the movement for independence, urged protestors to be peaceful on Saturday.
Regional president Quim Torra meanwhile said in a speech: "We exhort the head of the government to fix today a day and hour to sit with us for unconditional talks."
His demand for "unconditional" negotiations, addressed to Spanish Prime Minister Pedro Sanchez, appeared to be aimed at ensuring that a referendum on independence, currently a non-starter for Madrid, was up for discussion.
The Spanish government replied that it had "always been open to dialogue in the framework of respect for the law".
It also called on Torra to condemn the violence, "which he has not done so far".
Barcelona has been rocked all week by protests against a Spanish court's jailing of nine separatist leaders on sedition charges over the failed 2017 independence bid.
Emergency services said Saturday that 152 people had been injured in overnight clashes in Barcelona. Dozens more hurt elsewhere in Catalonia, taking the total to 182.
Authorities had already reported 500 injured since protests started Monday.
AFP