Catalonia protests: Marches and general strike paralyse Barcelona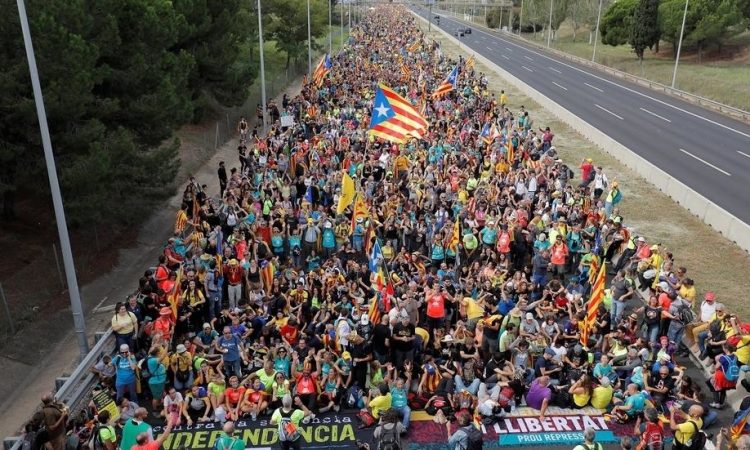 Fresh clashes between riot police and protesters have broken out in Barcelona amid anger over the jailing of Catalan separatist leaders.
A general strike was announced and five huge marches, all peaceful, converged on the city centre, bringing the streets to a standstill.
Police estimated that more than 500,000 people had joined Friday's rallies.
Protesters also blocked a motorway on the Spain-France border, causing huge tailbacks.
There were 17 arrests across the region on Friday, Spanish newspaper El Pais reported, and 62 people were injured – 41 of them in Barcelona.
Catalan regional leader Quim Torra thanked those who had demonstrated peacefully and criticised the rioters.
He said the sentences handed down to separatist leaders would not deter the campaign for independence.
"We'll return to the ballot box again on self-determination," he said.
Speaking in Brussels, acting Spanish Prime Minster Pedro Sanchez warned that those who caused disturbances would face justice.
"There is no space for impunity in relation to the serious acts of violence we have witnessed over recent days in different cities in Catalonia," he said.
Fernando Grande-Marlaska, Spain's acting interior minister, said there had been nearly 130 arrests since trouble broke out across Catalonia five days ago. He warned that rioters faced up to six years in prison.
Masked protesters confronted officers near the national police headquarters in Barcelona late on Friday, throwing stones and cans at lines of officers in riot gear. Rubbish bins were dragged into the streets and set alight.
BBC