China's Xi describes Putin as his 'best friend'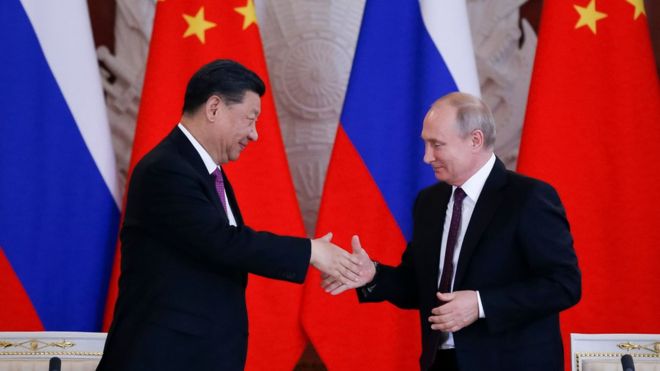 Chinese President Xi Jinping in Moscow has described Russia's Vladimir Putin as his "best friend" during a three-day visit to Russia focusing on trade and relations between the two countries.
The visit comes as China-US relations have soured over a bitter trade war.
Russia had decided on a pivot to the east years ago after ties worsened with the West over the Ukraine conflict.
The two sides have signed a package of trade deals and Mr Xi also unveiled two pandas for the Moscow Zoo.
The Chinese president arrived on Wednesday and later gave a press conference where he said he had a "deep personal friendship" with his Russian counterpart.
"In the past six years, we have met nearly 30 times. Russia is the country that I have visited the most times, and President Putin is my best friend and colleague," Mr Xi said.
Mr Putin echoed the praise saying he was "pleased to say that Russian-Chinese relations have reached an unprecedented level. It is a global partnership and strategic cooperation."
BBC