Coronavirus: Trump's Covid vaccine chief admits delivery mistake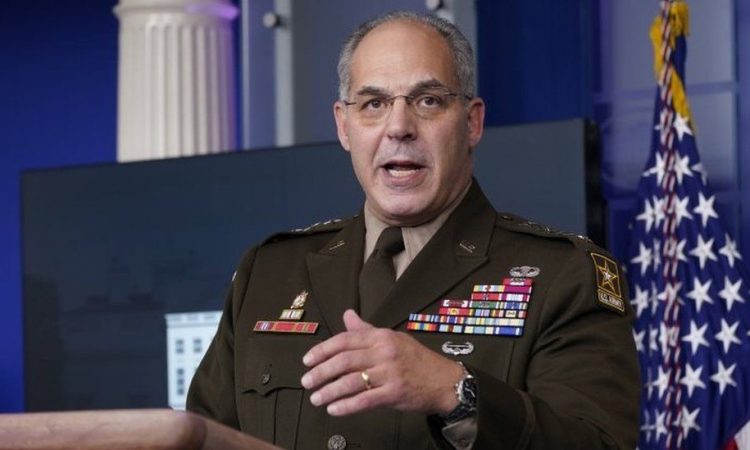 The army general in charge of distributing Covid vaccines in the US has admitted he failed over the initial number of doses promised to states.
Gen Gustave Perna, the head of Operation Warp Speed, said he took "personal responsibility for the miscommunication" to state governors.
More than a dozen states have expressed alarm at a cut in the expected number.
The Pfizer-BioNTech doses are being rolled out following approval – and a Moderna vaccine is now also approved.
Gen Perna apologised several times to state governors during a telephone briefing to reporters.
He said he had given out the numbers of doses based on what he believed would be ready, stressing it was his personal fault.
"I'm the one who approved forecast sheets. I'm the one who approved allocations," he said. "There is no problem with the process. There is no problem with the Pfizer vaccine. There is no problem with the Moderna vaccine.
"I failed. I'm adjusting. I'm fixing and we'll move forward from there."
US media said some states had been told the doses they would get next week would be lower. The New York Times listed 14 states by name, including California, New Jersey and Michigan.
Governor Jay Inslee of Washington state tweeted on Thursday: "This is disruptive and frustrating. We need accurate, predictable numbers to plan and ensure on-the-ground success."
Michigan Governor Gretchen Whitmer said the White House was "slow-walking the process".
Gen Perna said: "Please accept my personal apologies if this was disruptive to your decision-making."
Gen Perna said he did not know "with exactness" when all the vaccines available would be distributed.
The department of health and human services suggested the discrepancy could be between the number of doses manufactured, and the number actually ready for distribution, given that they have to undergo sterility and other tests.
Gen Perna said the newly approved Moderna vaccine would begin shipping out on Sunday and that he was on track to get a combined total about 20 million doses of the vaccines to states by the first week of January.
He said he hoped to get the system working "flawlessly".
Both vaccines are said to be about 95% effective. The US vaccination programme aims to reach 100 million people by April.
BBC