COVID-19: Trump ditches hopes of quick virus bounce-back for US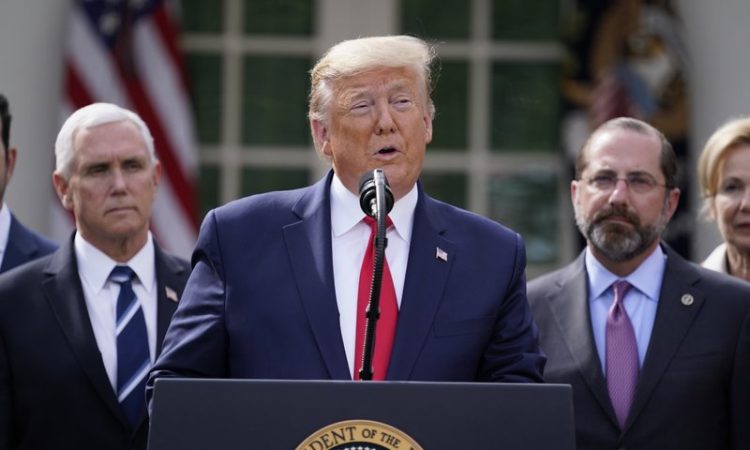 President Donald Trump has extended emergency coronavirus restrictions for the United States where his top scientist warned up to 200,000 people could die, as Africa's biggest city readied to go into lockdown on Monday.
The reassessment by Trump, who had previously said he wanted the country back to work in mid-April, came as Britain and hard-hit Italy warned measures to prevent the spread of the disease would be in place for months to come.
COVID-19 has already killed almost 34,000 people worldwide, according to a tally kept by Johns Hopkins University, with the number of confirmed cases nearing three-quarters of a million.
As of Sunday, more than 3.38 billion people were asked or ordered to follow confinement measures, according to an AFP database, as the virus infects every sphere of life — wiping out millions of jobs, postponing elections and clearing the sporting calendar.
Trump warned that the US crisis, which has seen a doubling of infections in only two days, would continue to get worse for some time.
"The modelling estimates that the peak in death rate is likely to hit in two weeks," he said, announcing an extension of social distancing guidelines until April 30.
"Nothing would be worse than declaring victory before the victory is won."
The president was speaking after Anthony Fauci, who leads research into infectious diseases at the National Institutes of Health, said he believed 100,000 to 200,000 Americans could die from the disease, and millions could be infected.
Officials continued to sound the alarm over medical shortages, with some bemoaning a system that has states competing for desperately needed supplies.
"We're bidding against one another," said Michigan's Governor Gretchen Whitmer.
The human consequences of a shutdown that has seen huge chunks of the US economy grind to a halt were playing out at food banks in New York, where organizers say demand has exploded.
"Before, there were 1.2 million people in New York who needed help for food. Now, there are three times as many," said Eric Ripert of City Harvest, a food rescue organization.
AFP