Germany's far-right AfD party fails to win first mayor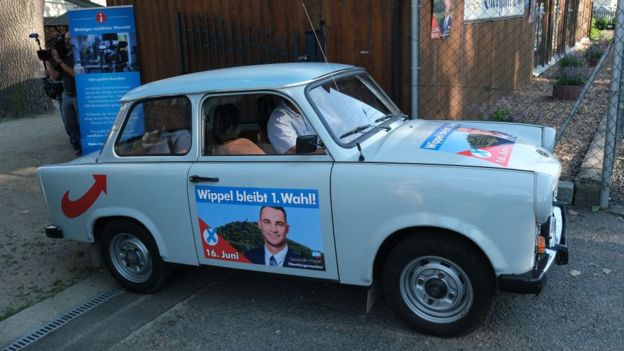 Germany's far-right Alternative for Germany (AfD) party has failed to win its first mayoral seat, after it lost a key election in the country's east.
Octavian Ursu of the centre-right Christian Democrats (CDU), Germany's main governing party, won more than 55% of the vote in the city of Görlitz.
AfD candidate Sebastian Wippel, 36, was deemed the frontrunner after he won the first round of voting.
The vote had been viewed as a litmus test for his anti-immigration party.
The AfD registered high levels of support in Görlitz, which has seen a huge exodus of younger people due to a lack of employment opportunities.
The area around the town has served as the backdrop to major Hollywood films, such as Inglourious Basterds and The Grand Budapest Hotel. Ahead of the vote, a number of actors and filmmakers linked with the city wrote an open letter urging residents not to support the AfD.
The party's initial success led to speculation that it could make an electoral breakthrough ahead of regional elections in September.
BBC