Gospel Music: Bolarinde – Mountain Over | @bolarindesings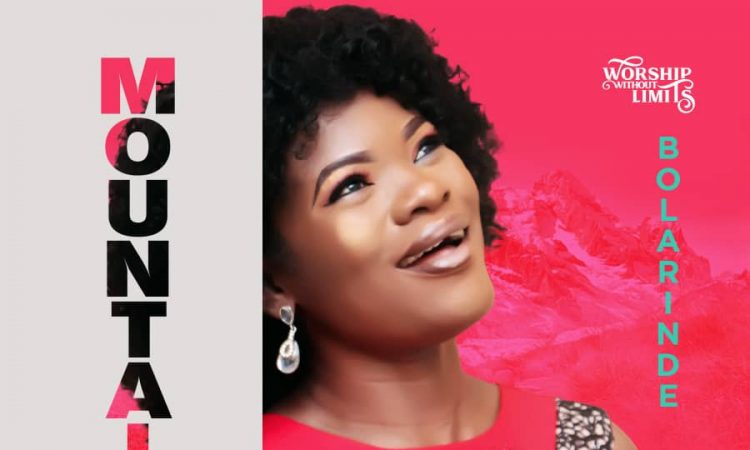 Bolarinde was born (October, 2) into a family of eight and hails from Edo state. She is married with two sons and presently lives in Nigeria.
Bolarinde was introduced to the music ministry at the early age of 10. She is best described as a seeker of God, a worshiper, with a voice so anointed. She has sang in several choirs and groups and is presently a lead vocalist at the Believers Loveworld- Christ Embassy.
Music for Bolarinde is not just a profession or a hobby, music is everything to her, her totality lies on it. Seeing her at first doesn't give you any clue but when she opens her mouth to sing, it comes with a deep presence of the Holy Spirit that leaves you speechless.
Bolarinde's music career has been greatly influenced by music legends as CeCe Winans, Juanita Bynum, Don Moen and the anointed Sinach of the Believers Loveworld"Christ Embassy.
She is the convener of the live worship program "Worship Without Limits" which has featured anointed worship leaders as Ayo Vincent, Eniola Adisa, Sammie Mcauley, Timmax, Adetayo Adeniyan, Boluwade Adenike, Hezekhia Sax and a host of other anointed gospel ministers.
Her program "Worship Without Limits" is a global program and is evangelical. It is a musical outreach with the vision to bring people together, lead them in worship and as they do miracles,signs and wonders, salvation of souls and deliverance will be evident in the lives of every participant.
Bolarinde is set to travel round the world with this message holding the "Worship Without Limits" concert in different towns, cities and nations till every life encounters this great experience.
Bolarinde is an inspiring worshipper and her songs are known to create an atmosphere of God's presence. Her music is rich and written based on deep convictions about the word of God taught by her man of God Rev.Dr Chris Oyakhilome.
MOUNTAIN OVER LYRICS
What you say you will do
That is what you will do
When you stretch forth your hands
You change everything
There is no limit with you
There is no mountain before you
You never fail
That is why you are God.
You never fail
That is why you are God.
That's why I worship
That's why I praise you
Here is my worship
Here is my praise
Mountain mover
Way maker
Destiny changer
Life giver
Mountain mover
Way maker
Destiny changer
Life giver
Mountain mover
Way maker
Destiny changer
Life giver
Download
Contact: bolarindesings@gmail.com.
Follow her:
Instagram :-Bolarinde_worshipwithoutlimits
Facebook:- Bolarinde Omorejie
Twitter:- Bolarindesings