Gulf of Oman tanker blasts: Crews rescued safely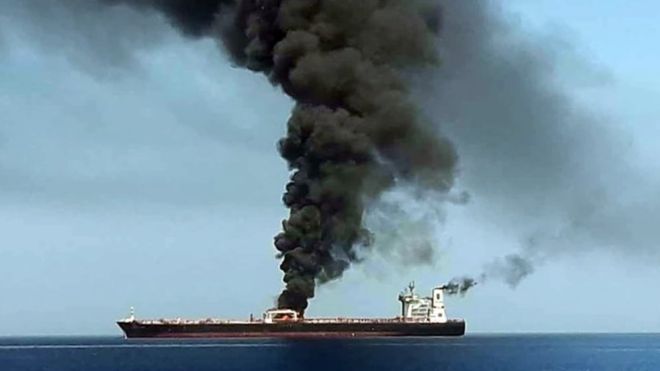 Dozens of crew members have been rescued after abandoning two oil tankers hit by explosions in the Gulf of Oman.
Ship operators said 21 crew on board the Kokuka Courageous and 23 on the Front Altair had been evacuated.
Iran rescued the 44 after an "accident", state media said, although the cause is unconfirmed. The US Navy said it received two distress calls.
The incident comes a month after four oil tankers were attacked off the UAE
The Norwegian-owned Front Altair had been "attacked", the Norwegian Maritime Authority said, leading to three explosions on board.
Wu I-fang, a spokesman for Taiwan's state oil refiner CPC Corp, which chartered the Front Altair, said it was carrying 75,000 tonnes of naphtha and was "suspected of being hit by a torpedo", although this has not been confirmed. Other unverified reports suggested a mine attack.
The ship's owner, Frontline, said the Marshall Islands-flagged vessel was on fire but denied reports on Iran media it had sunk.
The operator of the Panama-flagged Kokuka Courageous, BSM Ship Management, said its crew abandoned ship and were rescued by a passing vessel.
The tanker was carrying methanol and was not in danger of sinking, a spokesman said. It is currently located about 80 miles from Fujairah in the UAE and 16 miles from Iran.
BBC