Huawei Mate 30 phones launch without Google apps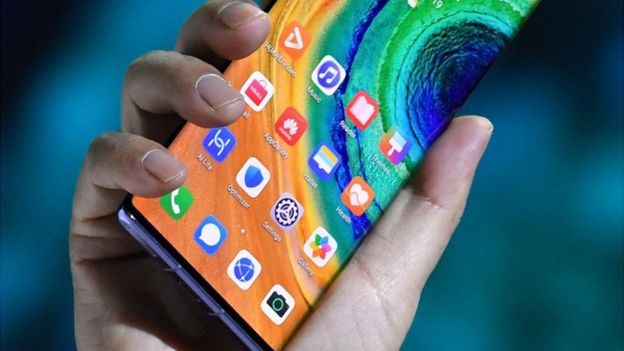 Huawei has launched its latest smartphones without many of the apps typically pre-installed on Android handsets.
The Mate 30 and Mate 30 Pro both lack YouTube, Google Maps and Gmail among other software.
They also do not feature Google's Play Store, which is the normal way users outside China install third-party software on to Android 10 phones.
To address this, Huawei has pre-loaded new alternative apps of its own.
A spokesman for the Chinese firm told the BBC that Facebook, Instagram and WhatsApp would all be available via Huawei's own store, called the Huawei App Gallery.
He added that there would also be a way to "side-load" Google's apps onto the handsets and that phone store staff would advise customers how to do that, although they might not run as smoothly as normal.
The issue was not addressed until about 90 minutes into the company's launch event in Munich, Germany, and then only briefly.
"Today you know because of the US ban… this phone cannot pre-install the GMS [Google Mobile Services] core," explained the firm's consumer devices chief Richard Yu.
"It forced us to use the HMS [Huawei Mobile Services] core."
He added that the firm had set aside $1bn (£801m) to encourage developers to make their apps compatible, and said more than 45,000 apps had already integrated the firm's technology. But he did not name any of them.
"The hardware is very impressive and differentiating [and] caters to Huawei's strengths," commented Bryan Ma from the market research firm IDC.
"But it's not enough to offset the lack of Google services aside from a few die-hard [customers] who have the patience to side-load and tolerate possible issues.
"Maybe they're just trying to ride it out in the hope that they eventually get access to those Google services later."
One invitee to the launch has tweeted videos showing two of Google's services refusing to work on the Mate 30.