Hurricane Dorian: 'Extremely dangerous' storm bears down on Florida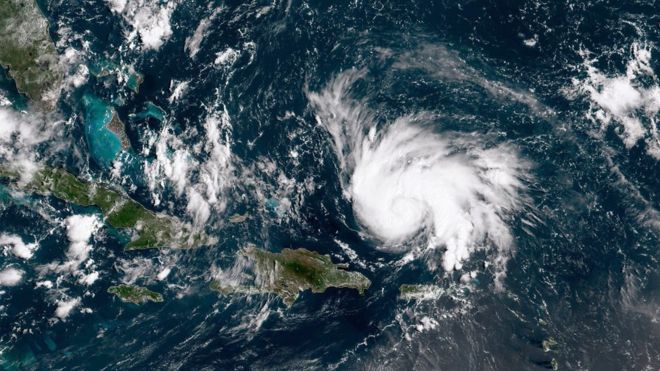 Hurricane Dorian is expected to strengthen into an "extremely dangerous" storm as it heads towards the US mainland, the National Hurricane Center (NHC) has warned.
Dorian is currently a category two hurricane but is expected to become a category three later on Friday.
The storm is expected to hit somewhere between Florida and southern Georgia, possibly late on Sunday, the NHC says.
By then, it could be even stronger with winds of more than 130mph (209km/h).
The powerful storm is moving slowly – at just 12 mph (19 km/h) as it crawls north-west across the ocean surface. Hurricanes tend to get stronger as they move over warm water like that off the Florida coast.
Dorian could make landfall on Monday, which is Labor Day – a public holiday in the US. It is widely expected to have reached category four by then, the second-highest rating on the Saffir-Simpson scale and capable of causing "catastrophic damage".
Some forecasters have drawn comparisons to Hurricane Andrew, a notorious 1992 category five hurricane which devastated Florida.
President Donald Trump was among those making the comparison, and warned Dorian "could be an absolute monster". He cancelled a planned trip to Poland because of the storm, sending Vice-President Mike Pence instead.
The NHC is warning of an "increasing likelihood of life threatening storm surge" along the Florida coast over the coming days. It has also warned that the heavy rain falling in the Bahamas "may cause life-threatening flash floods".
Florida's Governor Ron DeSantis has declared a state of emergency for the whole of the state.
He told residents it was "important for Floridians on the East Coast to monitor this storm closely", advising them to stock up on at least seven days' worth of food.
The warnings come after the eye of the storm missed the main island of Puerto Rico, sparing it significant damage, as it headed north-west on Thursday.