Hurricane Iota: Category four storm hits Nicaragua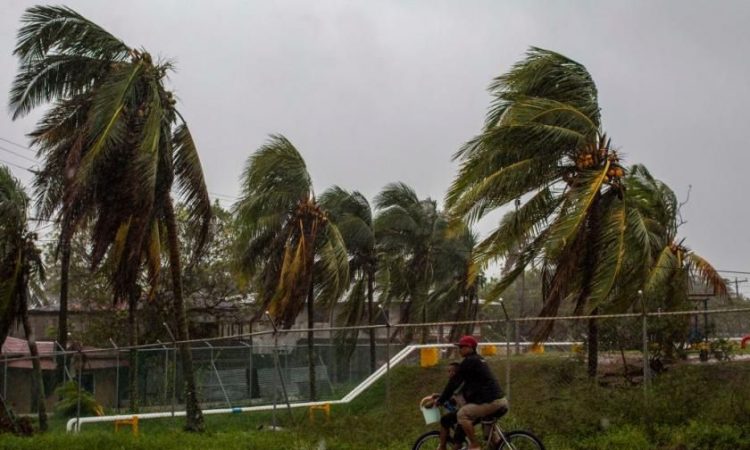 A powerful hurricane has brought torrential rains and strong winds to Nicaragua's Caribbean coast, two weeks after another devastating storm hit.
Iota made landfall as a category four storm near the town of Puerto Cabezas, where patients had to be evacuated from a makeshift hospital after its roof was ripped off.
Residents are in shelters, and there are fears of food shortages.
The storm has weakened and Honduras is expected to be hit later on Tuesday.
The US National Hurricane Center (NHC) said Iota was now a category two storm, but warned it could bring life-threatening storm surges, catastrophic winds, flash flooding and landslides.
Iota struck Nicaragua on Monday evening with sustained winds of nearly 155mph (250km/h), the NHC said. It strengthened at sea to a category five storm but it weakened as it made landfall.
In Puerto Cabezas, also known as Bilwi, the storm damaged wooden homes, flooded streets and cut off electricity. Residents said the wind ripped away the roofs of houses "like they were made of cardboard".
"I haven't eaten. I don't know where I'm going to sleep here," 80-year-old Prinsila Glaso told AFP news agency.
There were no immediate reports of casualties. Nicaraguan officials said around 40,000 people had been evacuated from areas in the storm's path.
"[Iota] is the strongest hurricane that has touched Nicaraguan soil since records began," said Marcio Baca, director of the Nicaraguan Institute of Earth Studies.
The hurricane is forecast to move inland across the country before hitting southern Honduras. The effect of the rains could be particularly devastating in areas already drenched by Hurricane Eta. Iota made landfall just 15 miles (24km) south of where Eta hit on 3 November.
In Honduras, officials said at least 50,000 people had been removed from high-risk areas. Speaking at a news conference on Monday, President Juan Orlando Hernández warned: "What's drawing closer is a bomb."
Before reaching Central America the storm moved past the Colombian island of Providencia in the Caribbean, cutting off electricity and killing at least one person, officials said.
Colombian President Iván Duque said 98% of the infrastructure in Providencia, home to around 5,000 people, had been damaged.
Iota is the strongest Atlantic hurricane of the year and only the second November hurricane to reach category five – the last was in 1932.
This year's Atlantic hurricane season has broken the record for the number of named storms. For only the second time on record officials have had to start using the letters of the Greek alphabet to start storm names after running out of names on its traditional alphabetical list.
Eta left at least 200 people dead. The worst-hit area was Guatemala's central Alta Verapaz region, where mudslides buried dozens of homes in the village of Quejá, with some 100 people feared dead. At least 50 deaths were reported elsewhere in Guatemala.
BBC