Israel election: Netanyahu and rival Gantz headed for deadlock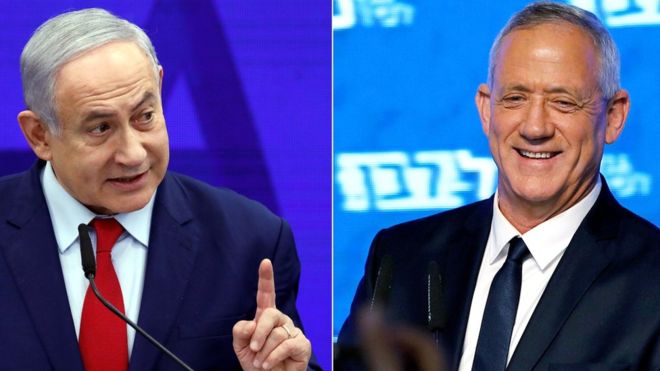 No clear winner has emerged from Israel's election, leaving a question mark over who will be prime minister, partial official results confirm.
With just over 60% of votes counted, the party of incumbent Benjamin Netanyahu is neck and neck with that of his centre-left main challenger.
The results indicate that each will struggle to form a majority coalition with smaller parties.
Mr Netanyahu is vying to stay in power for a record fifth term.
The latest results from Tuesday's vote suggest his Likud party won 31 seats, while his opponent Benny Gantz's Blue and White party garnered 32 seats, the Kan public broadcaster says.
A prime minister needs to command a 61-seat majority in the Knesset (parliament).
Mr Netanyahu, Israel's longest-serving prime minister, has been in office for 10 years.
The 69 year old has pledged to annex Jewish settlements and a swathe of other territory in the occupied West Bank if he is returned to power.
Palestinians, who seek a state in the West Bank and Gaza, with its capital in occupied East Jerusalem, have warned such a move will kill any hopes for peace.
Mr Gantz has not advocated any form of annexation, though his position on the creation of a Palestinian state is unclear. Like Mr Netanyahu, he has ruled out ever dividing Jerusalem.
BBC