Israel election result too close to call – exit polls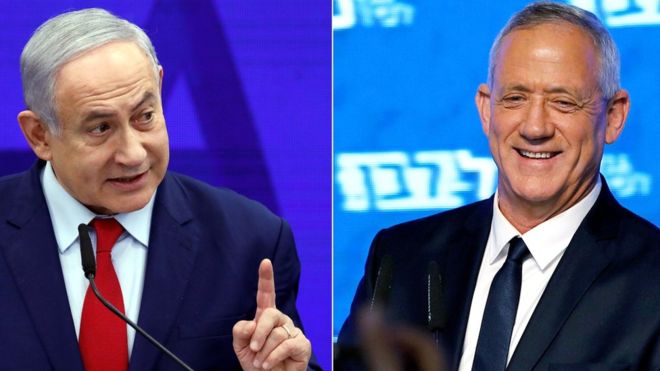 Exit polls following Israel's second general election in five months suggest the result is too close to call.
The centrist Blue and White alliance of former military chief Benny Gantz is projected to win between 32 and 34 seats, and PM Benjamin Netanyahu's right-wing Likud party 30 to 33 seats.
Yisrael Beiteinu party leader Avigdor Lieberman may end up being kingmaker.
Mr Netanyahu called the snap vote after failing to form a governing coalition in the wake of an election in April.
Negotiations on the formation of a new coalition are expected to start as soon as the preliminary results come on Wednesday morning.
A revised exit poll released by Israel's public broadcaster Kan projected that Blue and White would win 32 seats and Likud 31 in the 120-seat Knesset.
In third place was the Israeli Arab Joint List with 13 seats; followed by Mr Lieberman's secular nationalist Yisrael Beitenu party with nine; the ultra-Orthodox Shas and United Torah Judaism parties with nine and eight respectively; the right-wing Yamina party with seven, and the left-wing Labour-Gesher and Democratic Union alliances with six and five respectively.
Channel 12 News put Blue and White ahead with 34 seats and Likud with 33, while an updated poll Channel 13 News predicted that Blue and White would win 32 seats and Likud 30.
There was a muted response at Likud's election night headquarters in Tel Aviv as the exit polls were released.
BBC