Israel strikes in Gaza after fire balloons launched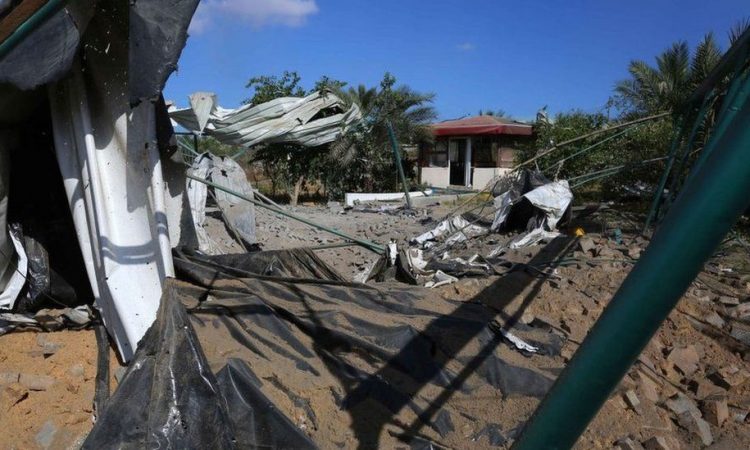 Israel says it carried out air strikes in Gaza overnight after Palestinians launched incendiary balloons from the territory, in the first major flare-up since an 11-day conflict last month.
The Israeli military said it targeted compounds belonging to Hamas, the militant group that controls Gaza.
The incendiary balloons sparked 20 fires in southern Israel on Tuesday.
Hamas said they were a response to a march by Israeli nationalists in occupied East Jerusalem.
There were no casualties on either side and calm had been restored by Wednesday morning.
In a statement, the Israel Defense Forces (IDF) said its fighter jets had hit military compounds operated by Hamas in Khan Younis and Gaza City.
It said "terrorist activity" took place in the compounds, and that the IDF was "prepared for all scenarios, including the resumption of hostilities, in the face of continued terror acts from the Gaza Strip".
The Palestinian news agency Wafa reported that aircraft bombed a site in the Maen area, south of Khan Younis, and another south of Gaza City, causing material damage.
A Hamas spokesman said on Twitter that Palestinians would continue to pursue their "brave resistance and defend their rights and sacred sites" in Jerusalem.
The IDF said the strikes were carried out in response to the "arson balloons launched from Gaza into Israel" on Tuesday.
In recent years, militants have frequently sent helium balloons and kites carrying containers of burning fuel and explosive devices over the Gaza border.
The devices have caused hundreds of fires in Israel, burning thousands of hectares of forest and farmland.
The air strikes were the first carried out under Israel's new government, which took office on Sunday, ending Benjamin Netanyahu's 12 years in power.
Naftali Bennett, the new prime minister, is a right-wing nationalist who heads a coalition of eight parties spanning the entire spectrum of Israeli politics.
In a separate development on Wednesday, the IDF said soldiers shot a Palestinian woman who it alleged had attempted a car ramming and stabbing attack at a checkpoint in the occupied West Bank. She is reported to have died of her wounds.
BBC