Kazakhstan election: Hundreds arrested in poll protests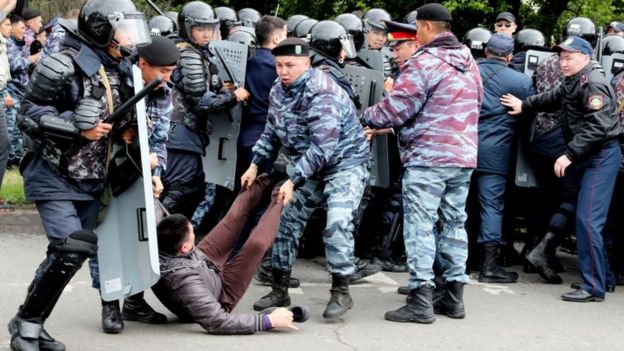 Police in Kazakhstan have arrested hundreds of people protesting against a poll to elect the country's first new president in 30 years.
The election was called after long-time leader, 78-year-old Nursultan Nazarbayev, stepped down in March.
His hand-picked successor, interim President Kassym Jomart-Tokayev, is widely expected to win the vote.
Protesters claimed the poll was not free and fair. But Mr Tokayev described the process as democratic and open.
Exit polls suggest 66-year-old Mr Tokayev, a former director-general of the United Nations Office in Geneva, won the election with 70% of the vote.
Large-scale protests – the biggest the country has seen in years – have been reported in Kazakhstan's capital, Nur-Sultan, and its largest city Almaty.
Hundreds of peaceful demonstrators, and several journalists and activists monitoring them, were detained by police.
Deputy Interior Minister Marat Kozhayev said 500 people had been arrested at "unsanctioned rallies", AFP news agency reports.
A BBC correspondent in Nur-Sultan saw people being dragged onto buses by riot police.
Mr Tokayev, who cast his ballot in the capital, has urged police to exercise restraint. He told the BBC his government would be tolerant towards those with different views.