Lawmakers investigate Trump, Giuliani and Ukraine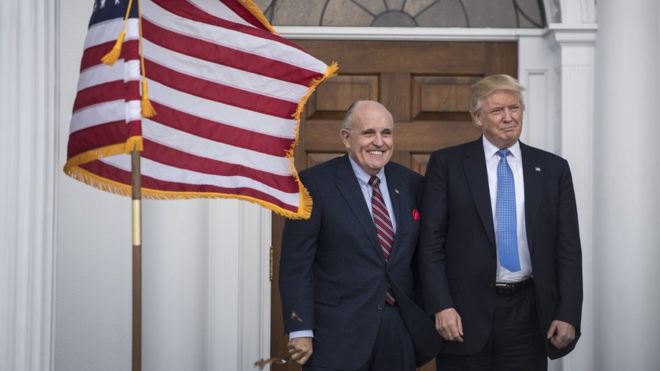 US lawmakers are investigating whether the White House tried to "manipulate" the Ukrainian government into digging up dirt on top Democrat Joe Biden.
Three US House of Representatives panels are looking into the alleged efforts involving US President Donald Trump's personal lawyer Rudy Giuliani.
The Democratic committee chairmen have requested records from the White House and Department of State.
Republicans have questioned Mr Biden's son's role with a Ukrainian gas firm.
The White House has not yet commented on the investigation.
The joint investigation was launched on Monday by three Democratic panel heads: Eliot Engel (foreign affairs), Adam Schiff (intelligence) and Elijah Cummings (oversight).
Their statement said they had "demanded records relating to President Trump's and Mr Giuliani's attempts to manipulate the Ukrainian justice system to benefit the President's re-election campaign and target a possible political opponent".
They noted that Mr Trump had reportedly threatened at the end of last month to withhold more than $250m (£200m) in congressional military aid to Ukraine.
The lawmakers said their inquiry would examine whether aid was being dangled to "coerce the Ukrainian government into pursuing politically-motivated investigations… in service of President Trump's 2020 re-election campaign".
The committee chairmen have requested White House records including transcripts of a 25 July phone call between Mr Trump and new Ukrainian President Volodymyr Zelensky.
The panels are also seeking any items referring to Mr Giuliani, the possible suspension of security aid, and any staff records on the legal cases involving Ukraine, former Trump campaign chairman Paul Manafort, Mr Biden's son, Hunter, and other related individuals.
Similar records have been requested from the Secretary of State Mike Pompeo.
The committees have given the White House and Department of State a deadline of 16 September.
BBC