Lyrics Video: Minister Aitee – Christmas Time ft. Winter Amadin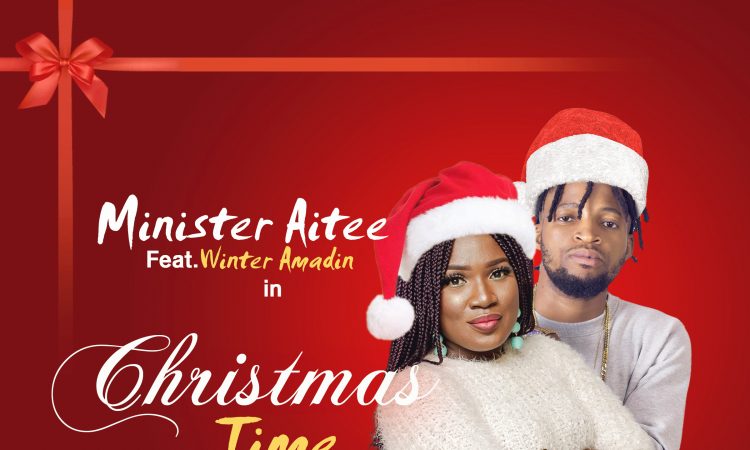 Christmas season is what I personally describe as the best time of the year.
The weather changes, streets, shops, malls and our homes become more beautiful.
There are sounds of Carols everywhere and celebrations all over.
People celebrate this season with or without knowing the reason behind it.
So let me tell you…The birth of our Lord and Saviour, Jesus Christ is marked on Christmas day. Jesus was born to save the world from sin and death. He was God, yet He became a man just to die to set us free. This therefore means that you and I are truly the reasons behind Christmas- Jesus made it so.
It's such a beautiful love story and I will sing about it all the days of my life.
I have a special brother of mine on this project, Winter Amadin, a member of the Loveworld Rap Nation. God bless you for your contribution to this work!
Christmas time by Minister Aitee ft Winter Amadin
Rap verse 1
Comon somebody
Ring the bell
Ding dong
The king is born
To him alone
I'ma sing a song
Light of the world
God son
Because of you now
We shine so bright
Came and gave us
Eternal life
We making toasts and
We sipping wine
We celebrating the bread of life
Solo Verse 1
It's the time of the year
When you hear Carols ring
Everywhere
Do you hear
The bells ding dong, ding dong
It is Christmas time
Ding dong, ding dong
You are the reason for the season
Yeah oh oh
Wave your hands in the air
Dance and celebrate
Sing and let us shout
Hallelujah praise
Chorus
Oh oh uh oh uh oh oh uh oh uh oh
You are the reason for the season
Ding dong *2
It is Christmas time
Ding dong *2
It is Christmas time
Verse 2
Jesus came for you and me
To give us a reason to live
And be free
Yeah
To give us life abundantly
Give Him praise
Exalt His name
Emmanuel
Lift Him (higher*3)
Wave your hands in the air
Dance and celebrate
sing and let us shout
Hallelujah praise
Repeat Chorus
Rap verse 2
Verse two
Let me tell you a story
How He gave me
A brand new story
God took me
From worry to glory
The story from then has been glory to glory
Cos He came to die
To make me fly
Gave the sky now
I'm soaring high
He's the truth
And the way
the life
He's the path of life I cannot deny
He's the reason for the season
I'm the reason why He came in
And I'm the reason for the season
Let's celebrate if you do believe me
If you do believe me
Back to chorus
ARTIST BIO:
Minister Aitee is a gospel music artist with a divine mandate to bless lives through anointed praise and worship songs.
She desires to create a culture of worship and reverence to our God. Minister Aitee uses gospel music as a vehicle for soul winning.
She has always been in the choir serving in various leadership capacities and mentoring others to use their talents for God.
Minister Aitee has backed up and featured in several music works and released her first 11-track album titled "Born to Worship" in 2012.
She is mightily blessed with a happy marriage and 4 handsome boys.
Minister Aitee is a member of Christ Embassy Church a.k.a Believers' Loveworld.
Watch the Lyrics Video
Connect with Minister Aitee on social media: Twitter @Aiteesings1
Instagram @minister_aitee_official