Police swoop as Hong Kong protesters try to flee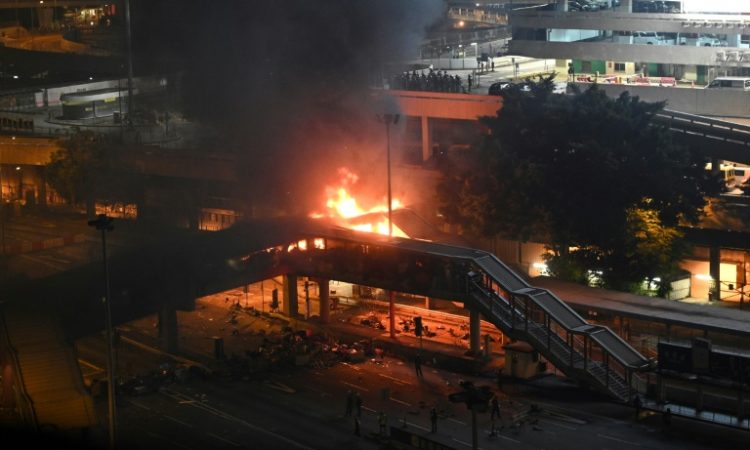 Hong Kong riot police swooped on pro-democracy protesters trying to flee a university they had set ablaze Monday, in one of the most violent confrontations seen in nearly six months of unrest.
Hundreds of demonstrators clashed throughout the day with police who had threatened to use deadly force, as protests also flared in other parts of the city.
Monday's events were part of a new phase of violence that began last week and has led to chaos throughout the city of 7.5 million people, with schools closed, train lines disrupted and major roads blocked by barricades.
China has refused to budge on any of the protesters' demands, and warned it will not tolerate dissent.
Chinese soldiers briefly appearing on Hong Kong's streets over the weekend supposedly to clean up debris fuelled concerns it could intervene militarily.
On Monday police tried to dislodge several hundred hardcore protesters who had occupied Hong Kong Polytechnic University (PolyU) over the weekend.
Overnight the mainly black-clad youngsters set fire to PolyU's main entrance as they repelled an attempted police incursion.
Daylight saw no let up, with clashes every time activists emerged from the campus.
Hails of tear gas greeted attempts to break out, with activists forced to retreat or trying to find holes in a police cordon.
Police made dozens of arrests — sometimes beating people with batons as they held them on the ground.
Officers crowded around those who fell during charges, and could occasionally be seen kicking helpless protesters.
Even by recent standards, the last few days have stood out as particularly violent, with one police officer hit in the leg by an arrow, and an armoured police vehicle torched.
Officers fired live rounds on Monday, though said they did not think anyone had been hit.
Police declared events at PolyU a "riot" — rioting is punishable by up to 10 years in jail.
"I hereby warn rioters not to use petrol bombs, arrows, cars or any deadly weapons to attack police officers," a force spokesman said.
"If they continue such dangerous actions, we would have no choice but to use the minimum force necessary, including live rounds, to fire back."
Hong Kong police routinely carry sidearms, but until now they have only used them in isolated incidents during running street clashes. Three people have been shot, none of them fatally.
They have largely relied on tear gas, water cannon and rubber bullets, but the new warning suggests a more proactive use of live rounds.
AFP