President Trump pardons ex-National Security Adviser Michael Flynn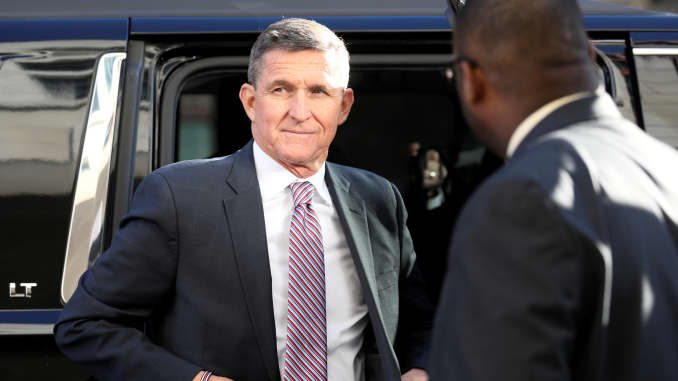 US President Donald Trump has pardoned his former top security adviser Michael Flynn, who pleaded guilty to lying to the FBI.
The president said the widely expected act of clemency was his "Great Honor".
Flynn was among former aides to President Trump convicted during a justice department investigation into alleged Russian election interference.
He admitted in 2017 to lying to the FBI about contacts with Russia's envoy, then tried to withdraw his plea.
Flynn responded to the president's announcement by posting a tweet containing a US flag emoji and a Biblical verse, Jeremiah 1:19.
The verse says: "'They will fight against you but will not overcome you, for I am with you and will rescue you,' declares the Lord."
Flynn's supporters see him as the victim of a political vendetta by the outgoing Obama administration to delegitimise the incoming Trump administration with unsubstantiated claims of Russian collusion.
A 22-month justice department investigation concluded in 2019 there was no evidence to establish that Mr Trump or any of his associates had conspired with the Kremlin to win the 2016 election.
Earlier this year, Mr Trump commuted the sentence of Roger Stone, another ally who was charged in that special counsel inquiry.
Mr Stone was convicted of lying to Congress, obstruction and witness tampering, but the Republican president said he had been unfairly targeted in a witch hunt.
US House of Representatives Judiciary Committee chairman Jerrold Nadler led Democratic condemnation of the pardon for Mr Flynn.
He issued a quick statement saying: "This pardon is undeserved, unprincipled, and one more stain on President Trump's rapidly diminishing legacy."
He was an early and ardent supporter of Mr Trump during the 2016 campaign, though he had been a life-long Democrat before.
Flynn was among the new president's first appointments – Mr Trump brought him on just days after winning the election.
The two saw eye-to-eye on many issues, including the advantages of closer ties with Russia, renegotiating the Iran deal and combating the threat from Islamic State militants.
But Mr Trump's predecessor, President Barack Obama, had warned against hiring Flynn. In 2014, the Obama administration fired Flynn from his role as head of the Defense Intelligence Agency, citing issues of mismanagement and temperament.
Flynn, who served three decades in the US Army, complained he was ousted for telling hard truths about the war on Islamist extremism.
Flynn lasted just 23 days as national security adviser – the president's chief counsellor on international affairs and defence.
Mr Trump fired him after it emerged that he had discussed lifting sanctions on Russia with Moscow's ambassador to Washington before Mr Trump took office, and misled the vice-president about that conversation.
In March this year, Mr Trump said he was considering pardoning Flynn.
Although he initially agreed to co-operate with prosecutors, Flynn asked to withdraw his guilty plea back in January.
With the help of a new legal team, he had accused prosecutors of misconduct, including withholding evidence.
A Department of Justice review of the case recommended that the charges be dropped. A federal prosecutor appointed by US Attorney General Bill Barr found that the FBI interview of Flynn was "conducted without any legitimate investigative basis".
But when a US federal court did not immediately agree to drop the charges, Flynn's lawyers appealed to compel the judge to comply.
In August, an appeals court sided with the federal court judge, leaving the matter up in the air. But Mr Trump's pardon clears Flynn of the whole case.
BBC