Proud Boys leader held for burning Black Lives Matter flag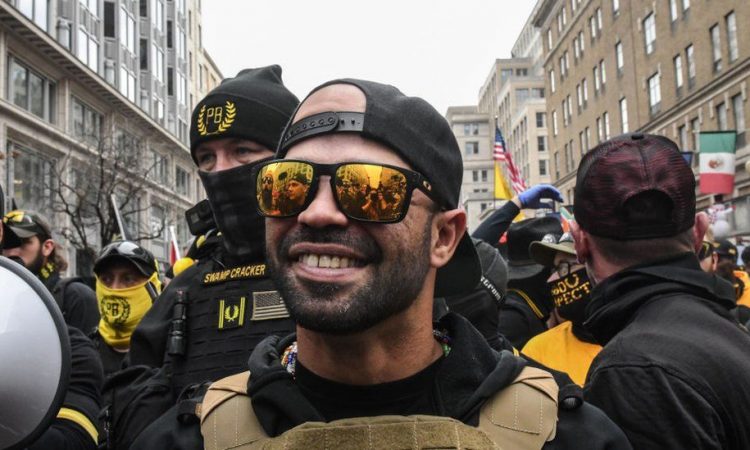 The leader of the far-right Proud Boys group has been arrested in Washington DC on suspicion of burning a Black Lives Matter flag last month.
Enrique Tarrio faces misdemeanour destruction of property charges, police say.
He has reportedly admitted torching a banner taken from a black church during a rally in December in the city.
President Donald Trump has been urging supporters to gather in the capital this week for another demonstration.
On Wednesday, members of Congress are due to certify Democratic President-elect Joe Biden's election victory before he takes office on 20 January.
Mr Tarrio has said on the social media app Parler that the Proud Boys will "turn out in record numbers on Jan 6th", referring to his members as "the most notorious group of extraordinary gentlemen".
A spokesman for the Metropolitan Police Department, Dustin Sternbeck, told the Washington Post on Monday that Mr Tarrio had been stopped in a vehicle shortly after it entered the district.
The 36-year-old was also found during his arrest to be in unlawful possession of two devices that allow guns to hold additional bullets, a source told CBS News.
The destruction of property charge relates to a protest in Washington DC on 12 December in support of the outgoing Republican president's unsubstantiated claims of systemic election fraud.
The mostly peaceful demonstration ended in isolated scuffles as confrontations with counter-protesters broke out. Police said more than three dozen people were arrested and four churches were vandalised.
Mr Tarrio – who lives in Miami, where he also reportedly runs a grassroots organisation called Latinos for Trump – told the Washington Post at the time that he had burned the Black Lives Matter flag.
"Let's make this simple," he said. "I did it."
But he maintained he did not know the Asbury United Methodist Church, where the flag had reportedly flown, was predominantly attended by African American worshippers.
Mr Tarrio also said Proud Boy members have had their flags and hats stolen in past demonstrations without anyone being arrested for those alleged incidents.
Earlier on Monday, another black church that was vandalised during December's protest sued Mr Tarrio and the Proud Boys.
The Metropolitan African Methodist Episcopal Church accused the group of climbing over a fence and tearing down a Black Lives Matter sign.
Kristen Clarke, head of the Lawyers' Committee for Civil Rights Under Law, said in a statement: "Black churches and other religious institutions have a long and ugly history of being targeted by white supremacists in racist and violent attacks meant to intimidate and create fear.
"Our lawsuit aims to hold those who engage in such action accountable."
The city's police department said last month it had been considering a potential hate crime charge over the incident.
BBC