Rugby World Cup: Barclay adamant Scotland 'won't cry for a week'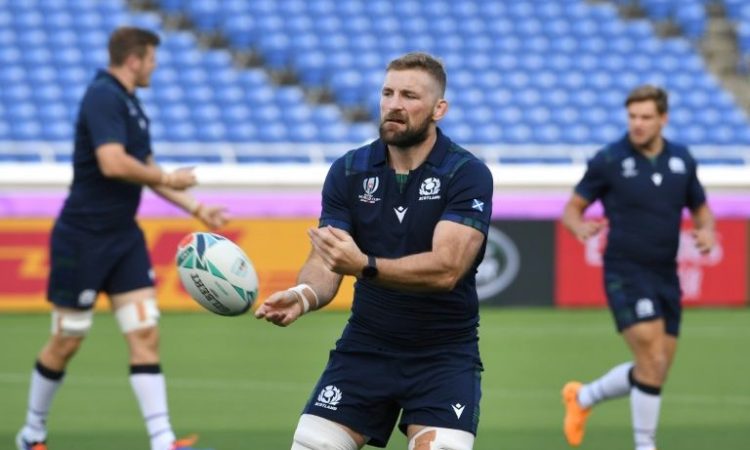 Scotland veteran John Barclay insisted there was nothing to be gained by "sitting in our hotel rooms and crying for a week" as they looked to get their Rugby World Cup back on track against Samoa.
The Scots started their Pool A campaign with a desperately disappointing 27-3 loss to old rivals Ireland, in a match where they outplayed in all departments.
That loss led to fierce criticism but Scotland could yet qualify for the quarter-finals, with the top two from each of the four groups going through to the last eight.
Scotland face Samoa in Kobe on Monday, having enjoyed two narrow wins in their most recent meetings, and Barclay said the last thing they needed was for a gloomy mood to descend upon the squad after the Ireland defeat.
"We're not going to sit in our hotel rooms and cry for a week," the 33-year-old told reporters on Friday.
The back row, who has played 75 Tests, added: "Especially after a bad game, the worst thing is just to sit in your hotel room and cry.
"I understand some people find it potentially frustrating to see us out and some people see a snippet on social media and it looks like people don't care.
"But the reality is we do care, but we can't stay in our rooms and just do nothing because that would be ridiculous and not good for the culture and the boys have got to move on."
Barclay, a former Scotland captain, said the lessons from a video of the Ireland game were clear.
"It just revealed we didn't do what we said we were going to do," he explained.
"When we don't stick to our systems in attack and defence, that's when we look like we don't have energy because you are asking someone to cover all the space and they can't."
Meanwhile former Scotland wing Sean Lamont, now the squad's strength and conditioning coach, insisted being in a tough situation was nothing new for the team.
– 'Know what's coming' –
"Every game in the World Cup is pressure. Every game for Scotland is pressure," Lamont insisted.
"The 2011 World Cup, you look at the pool games there and we just sneaked past both Romania and Georgia.
"That's the thing, we can't afford to do that from here on out. We had a shot for a good clean win at the weekend and we missed it, so we know.
"The World Cup is totally different, you saw it with the lesser teams, Uruguay and Fiji because teams get their players for so long everyone's level goes up.
"We know what's coming at us and we have to be spot on."
Samoa started Japan 2019 with a bruising 34-9 victory over Russia, with Barclay saying: "I don't like to speak too much about stereotypes but I think with the South Sea Islanders you can do that to a certain extent.
"They have some big physical guys… We've not looked at what they do too much yet. We've focused more on how we fix ourselves."
AFP