Turkey Syria offensive: Mitch McConnell attacks President Trump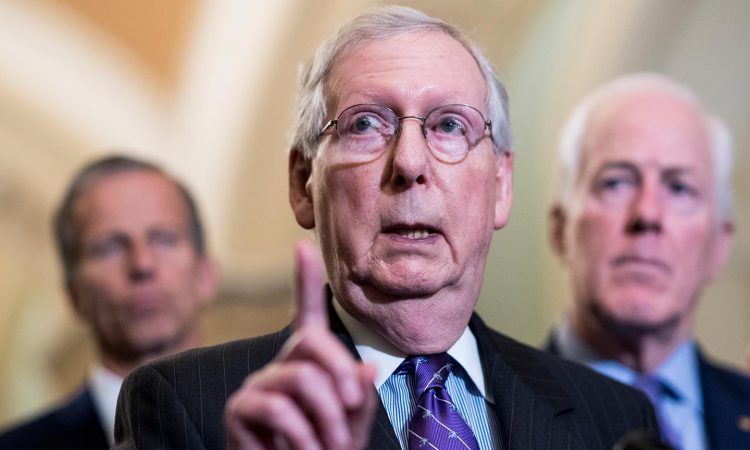 The US Senate majority leader has attacked President Donald Trump's policy in Syria.
In a Washington Post opinion piece, Mitch McConnell says fellow Republican Mr Trump's troop withdrawal order combined with Turkey's Syria assault was a "strategic nightmare".
On Wednesday the president called the Turkey-Syria border situation "strategically brilliant" for the US.
Sporadic fighting continues in the region despite a US-brokered pause.
Under the deal, Turkey agreed to halt its operation for five days while Kurdish fighters leave the area. Ankara first launched its assault after Mr Trump withdrew all US forces from the border.
President Recep Tayyip Erdogan's operation aims to push Kurdish fighters – regarded by Turkey as terrorists – away from northernmost Syria and create a "safe zone" for resettling up to two million Syrian refugees currently in Turkey.
Between 160,000 and 300,000 people have reportedly fled their homes since the fighting started, and there are fears that the Turkish operation may lead to the ethnic cleansing of the local Kurdish population.
Concern was also growing about possible war crimes committed by Turkey and allied militias since the offensive began on 9 October. Unconfirmed reports suggest that Turkish forces have used white phosphorous in Syria.
McConnell – as Senate majority leader one of the most senior members of Mr Trump's Republican party – attacked the US troop withdrawal as a "grave strategic mistake".
"The combination of a US pullback and the escalating Turkish-Kurdish hostilities is creating a strategic nightmare for our country," he wrote. Even if the ceasefire holds, the Turkish assault and US withdrawal has "set back" Washington's fight against the Islamic State (IS) group.
Mr McConnell says their "retreat" will allow both Russian and Iranian influence to grow in the region.
BBC