Turkey-Syria offensive: Syrian army heads north after Kurdish deal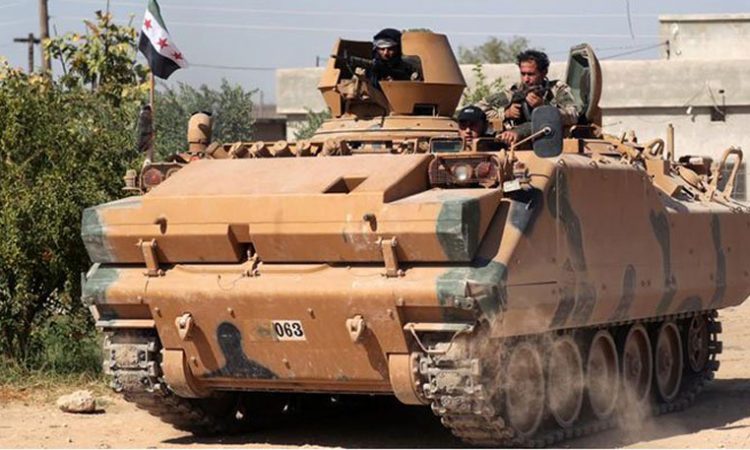 Syria's army has started to reach the north of the country, hours after the government agreed to help Kurdish forces facing Turkey.
State media said government forces, which are backed by Russia, had entered the strategic town of Tal Tamer, 30km (19 miles) south of the Turkish border.
The deal came after the US, the Kurds' main ally, said it would withdraw its remaining troops from northern Syria.
Turkey's offensive aims to push Kurdish forces from the border region.
Areas under the control of the Kurdish-led Syrian Democratic Forces (SDF) came under heavy bombardment over the weekend, with Turkey making gains in the key border towns of Ras al-Ain and Tal Abyad.
Dozens of civilians and fighters have been killed on both sides.
On Sunday, US Defence Secretary Mark Esper announced the Pentagon was moving up to 1,000 troops away from the north, citing fears that US forces would end up stuck between "two opposing advancing armies".
The Turkish offensive and US withdrawal have been internationally criticised, as the SDF were the main allies of the West in defeating the Islamic State (IS) group in Syria. There are fears about a possible resurgence of the group and the escape of prisoners amid the instability.
According to the Kurdish-led administration in northern Syria, Sunday's agreement will allow the Syrian army to deploy along border areas controlled by Kurdish forces to "repel [Turkish] aggression".
It is the first time government troops will enter those areas since 2012, when forces loyal to President Bashar al-Assad withdrew to fight rebels elsewhere, letting Kurdish militias take control.
Despite disagreeing with Kurdish attempts to self-rule, Mr Assad did not seek to retake the territory, especially after the Kurds became crucial partners in the international coalition against IS, with US troops in the region.
BBC