Turkey-Syria offensive: US sanctions Turkish ministries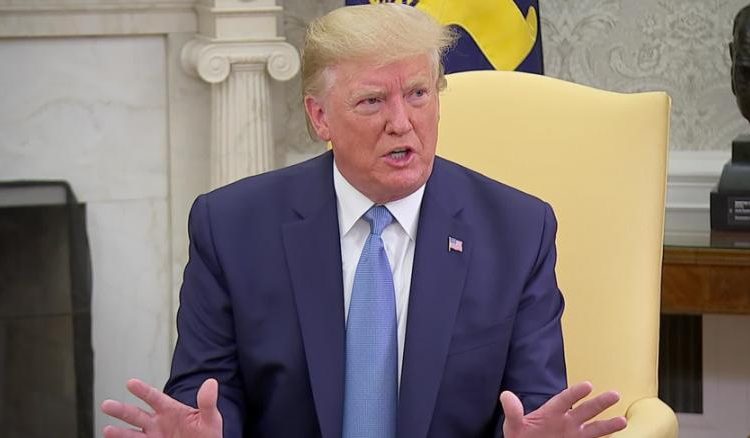 The US has sanctioned two Turkish ministries and three senior government officials in response to the country's military offensive in northern Syria.
President Donald Trump also phoned his Turkish counterpart Recep Tayyip Erdogan to demand an immediate truce, Vice-President Mike Pence said.
Mr Pence said he would travel to the region "as quickly as possible".
Syria's army earlier entered areas in the north-east. This could result in a confrontation with Turkish-led forces.
The Syrian army deployment followed a deal with Kurdish-led forces, who until last week were US allies.
Turkey says its offensive aims to push Kurdish forces from the border region and establish what the government in Ankara describes as a "safe zone".
With a "safe zone" reaching about 30km (20 miles) into Syria, Turkey wants to resettle up to two million Syrian refugees currently on its territory.
Many of them are not Kurds and critics warn this could lead to ethnic cleansing of the local Kurdish population.
Speaking to reporters in Washington DC on Monday evening, US Treasury Secretary Steven Mnuchin described the sanctions as "very strong" which would have a severe impact on the Turkish economy.
The US Treasury published a statement, which said that action was taken against Turkey's defence and energy ministries, as well as the ministers of defence, energy and interior.
"The Turkish government's actions are endangering innocent civilians, and destabilizing the region, including undermining the campaign to defeat ISIS [Islamic State]," the statement added.
Appearing alongside Mr Mnuchin, Vice-President Pence warned that the sanctions "will continue and will worsen unless and until Turkey embraces an immediate ceasefire, stops the violence and agrees to negotiate a long-term settlement of the issues along the border between Turkey and Syria".
Mr Pence said that President Trump reiterated this in Monday's phone call with President Erdogan.
The vice-president also reiterated that the US "did not give a green light to Turkey to invade Syria".
The US earlier said that the Turkish "unacceptable" incursion into Syria has resulted in the release of many captured IS fighters.
Earlier on Monday, European Union countries committed to suspending arms exports to Turkey but stopped short of an EU-wide arms embargo.
In response, Turkey said it would examine its co-operation with the EU due to its "unlawful and biased" attitude.
BBC