Turkey to suspend Syria offensive 'to allow Kurdish withdrawal'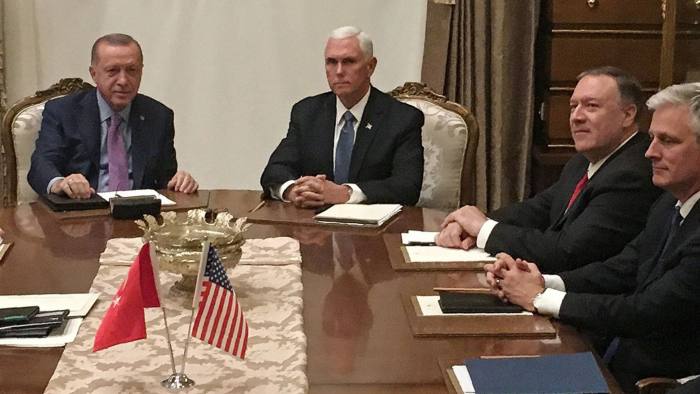 Turkey has agreed to a ceasefire in northern Syria to let Kurdish-led forces withdraw.
The deal came after US Vice-President Mike Pence and Turkey's President Recep Tayyip Erdogan met for talks in Ankara.
All fighting will be paused for five days, and the US will help facilitate the withdrawal of Kurdish-led troops from what Turkey terms a "safe zone" on the border, Mr Pence said.
It is unclear if the fighters of the Kurdish YPG will fully comply, however.
Commander Mazloum Kobani said Kurdish-led forces would observe the agreement in the area between the border towns of Ras al-Ain and Tal Abyad, where fighting has been fierce.
"We have not discussed the fate of other areas," he said.
UK-based war monitor the Syrian Observatory for Human Rights (SOHR) said clashes were continuing in Ras al-Ain despite the ceasefire announcement.
It said 72 civilians had been killed inside Syria and more than 300,000 displaced over the past eight days.
BBC