UN warns Myanmar military, as internet restored after blackout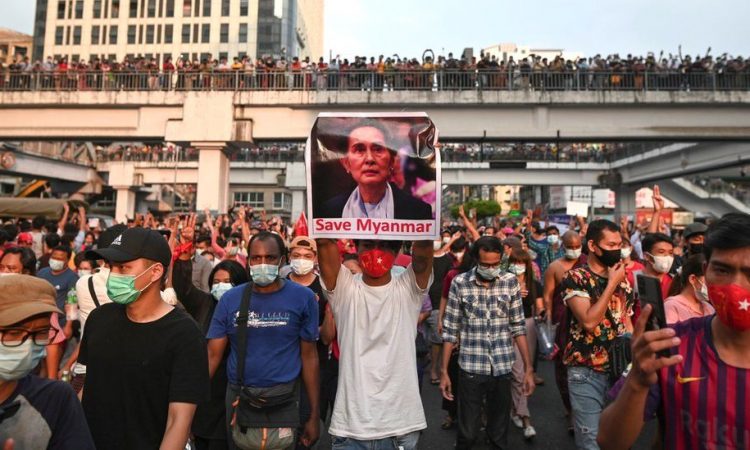 The United Nations has warned the Myanmar military of "severe consequences" if it responds harshly to the protests that have taken place across the country following the February 1 coup, as a second internet blackout was lifted early on Tuesday.
"Ms Schraner Burgener has reinforced that the right of peaceful assembly must fully be respected and that demonstrators are not subjected to reprisals," UN spokesman Farhan Haq said in New York.
"She has conveyed to the Myanmar military that the world is watching closely, and any form of heavy-handed response is likely to have severe consequences."
In an account of the meeting, Myanmar's army said Soe Win, the regime's second in command, had discussed the administration's plans and information on "the true situation of what's happening in Myanmar".
Myanmar was plunged into a second internet blackout on Monday night after the 10th day of demonstrations against the coup and an increased presence of troops and military vehicles. Injuries were reported in Mandalay, the country's second-biggest city, after police used force to break up a protest there.
Internet monitoring group NetBlocks said the blackout came into force at 1am local time (18:30 GMT) but that connectivity was restored eight hours later.
"Internet service in #Myanmar has been restored from 9am after a second night under internet curfew leaving residents offline and without a voice following the military coup," NetBlocks tweeted on Tuesday morning.
Small numbers of people again began gathering in Yangon, in a continuation of days-long protests demanding the military, who seized power on February 1, step down and free the country's elected leaders including 75-year-old Aung San Suu Kyi. She has been charged with the illegal possession of walkie-talkies and is expected to appear in court by video-link on Wednesday.
The Assistance Association for Political Prisoners (AAPP), which is tracking detentions, expressed concern that the military could use the internet blackouts to "commit unjust activities including arbitrary arrests."
It said at least 426 people had been picked up since the coup and 391 remained in custody.
The army has been carrying out nightly arrests and has given itself enhanced search and detention powers through amendments to the colonial-era Penal Code.
The AAPP said the amendments made the law more "arbitrary" and were "aimed at the civil disobedience movement" noting that the changes could allow the military to target pamphlets, protest banners and even songs. People found guilty of such offences could face as long as 20 years in prison, the group added.
A new cybersecurity bill, which would allow those in power to ban content they dislike, restrict internet providers and intercept data, is also under consideration.
On Monday, mobile operator Telenor said it was "of the strong opinion" that the law should not be passed given the potential impact on human rights. It also noted the broad scope of the bill, and questioned the military's move to pass the legislation during a state of emergency.
"A Cyber Sec bill should give due consideration to fundamental human rights such as freedom of speech and privacy to people in Myanmar," Telenor's CEO Sigve Brekke said on Twitter.
Al-Jazeera