US immigration: ICE releases 300 people after Mississippi raids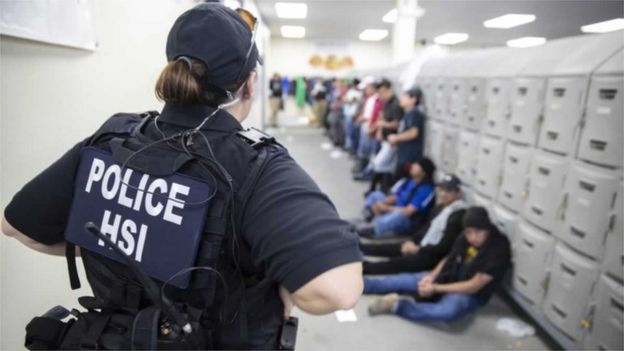 US immigration officials have said they agency have released some 300 people who were arrested in a massive raid in Mississippi on Wednesday.
Nearly 700 workers from seven agricultural processing plants were arrested for allegedly not having proper documentation to be in the US.
The raids sparked condemnation from Democrats as stories emerged of children separated from their parents.
Officials say they took steps to ensure any children were properly cared for.
Immigration and Customs Enforcement (ICE) said "approximately 680 removable aliens" had been detained during the operation, which saw agents arriving in buses to question and arrest workers at the plants.
ICE spokesman Bryan Cox told the BBC on Thursday that those who were not released will be moved to an ICE detention facility and held there.
"The 300 released are released from custody," he said in an emailed statement. "They were placed into proceedings before the federal immigration courts and will have their day in court at a later date."
Mr Cox said those arrested were asked if they had any dependents needing care or if they had any children at school who needed to be picked up.
They were given access to phones at the processing site to make arrangements to care for their children. He said those with child care issues are "expeditiously processed and returned".
In response to critics who called the raids cruel and harmful to the workers' children, Mr Cox said the agency had directed two Homeland Security Investigations employees to notify schools of the operation and provide contact details for any children whose parents did not pick them up.
President Donald Trump had announced an immigration crackdown in June, saying "millions of illegal aliens who [had] found their way into the US" would be removed.
BBC